One day I went to school. I saw a cat hurt behind the grass. I took the cat to the vet.
The doctor said it has blood. He put a bandage on the cat, and I take it to my home.
We are happy.
The End!
The Owl and the Monkey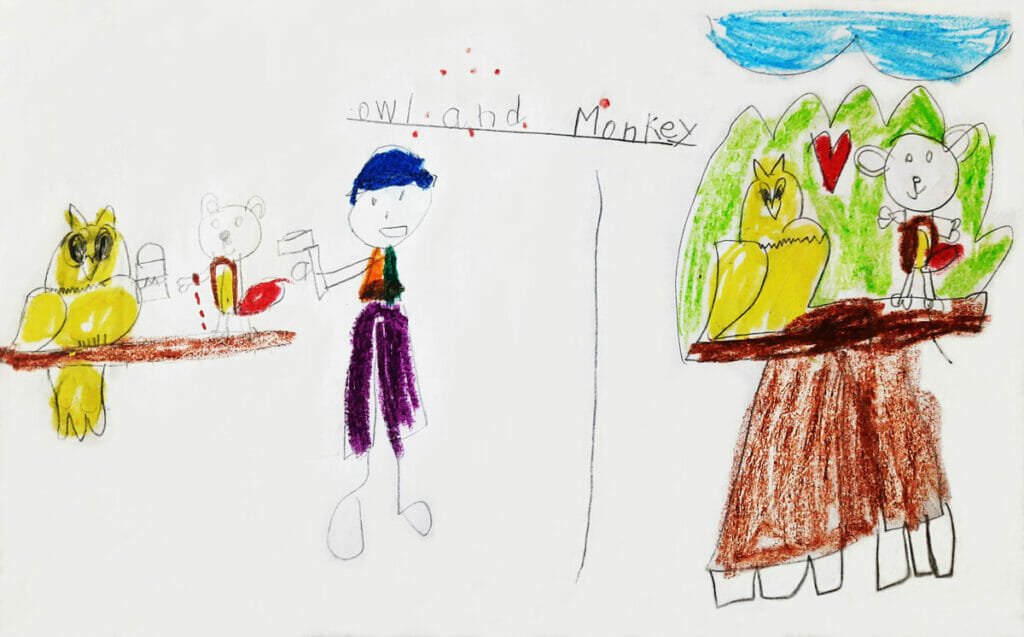 The owl and the monkey living in the jungle were enemies. Once a hunter shot the monkey with a gun. The monkey fell down.
The owl saw this and pecked the hunter and chased him away. The owl put medicine on the monkey's wound.
Thus, they became friends.
The End!
Lion and Monkey
Once upon a time, there lived a lion, Lowi, and a donkey. One day, a monkey, Piku got stuck in a blackberry bush. A rat saw all this and said, "Oh My Gosh! How Piku got stuck in a blackberry bush!" So it quickly ran to Lowi.
The two friends discussed about the monkey's feelings. Mouse thought Piku would be sad. Lowi thought Piku would be upset. But they have to find the real feeling of monkey. "You are too small to walk to the blackberry bush. Get on my back. I will carry you," said Lowi.
On the way, they met Fillo the Deer. 
"Hello!" said Lowi.
Mouse said, "Fillo! Picku is in trouble."
I will come too," said Fillo.
And off they went to find Piku.
On the way they met Douky the Duck and Lulu the Frog.
"Douky and Lulu, we have a warning. Piku got stuck in a blackberry bush," said Lowi.
They reached the blackberry bush.
"Guys, you are finally here. Lowi, I need you to roar as loudly as you can!" said Deals the Donkey.
"Ok, I will do my best," said Lowi. He huffed and puffed and roared.
The blackberries fell down, and the same happened to Piku.
Piku said, "Thank you," to Lowi.
The End!
Click here for other short stories written by children:
Li'l Spider and the Fort of Doom